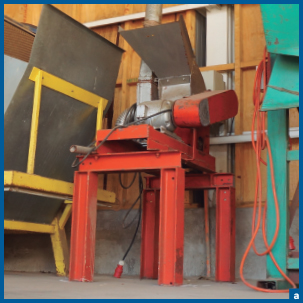 a) Hammer Mill
Brand and model: Peerless

Capacity: Approx. 200 kg of bark/h
Description: Comminution of brittle solid samples (e.g. bark), through the impact produced between rotating hammers and the material to be treated. The type of sieve to be installed at the bottom of the mill defines the maximum granulometry of the product.
b) Pin Mill
Brand and model: Alpine 160 Z

Capacity: Approx. 20 kg/h
Description: The material to be milled is fed through a high-speed rotating cylindrical element, in which numerous needles that impact the material are attached.
c) Cutting Mill
Brand and model: AMIS S-20/20 3661
Capacity: Approx. 100 kg/h
Description: Mill to grind thermoplastic materials, through cutting knives.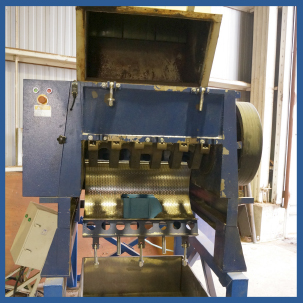 d) Blade Mill
Brand-Model: TMC 800
Material to be processed: Plastics of different types in addition to biomass such as pine bark or wood chip
Capacity: 300 kg/h for plastic
Description: In this mill, a great variety of granulometries can be obtained through its cutting blades depending on the sieve used in the material discharge.