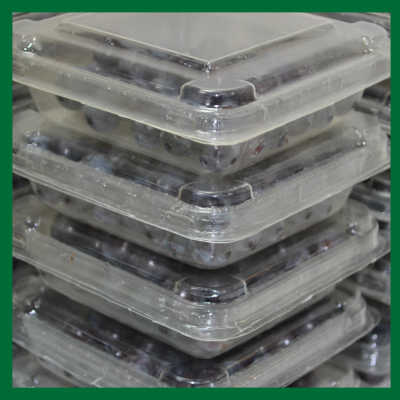 Containers have a direct impact on the world fruit industry. Fresh products must follow a long marketing chain from producers to manufacturing companies and the final consumer. The containers must ensure that fresh product arrives to its destination in optimal conditions with minimum losses caused by fruit deterioration during storage and transportation.
A large percentage of Chilean export fruit is stored and transported in containers made from conventional petroleum-derived plastic materials. They have a short shelf life, but the material from which they are made remains stable for hundreds of years. While recycling is important, it is insufficient to prevent the problematic accumulation of plastic waste.
Faced with this reality, biodegradable plastics business is a fast-growing industry. The Fondef project D08I1191 "Biodegradable thermoplastic containers for the national fruit industry" was born based on the interest of fruit export companies to comply with the requirements, regulations and environmental norms of their destination markets. After two years of development, a formulation of a biodegradable composite material was obtained, characterized and validated at laboratory and pilot levels, based on polylactic acid (PLA). This formulation was protected by a patent application.
Its advantages are: (i) processability by extrusion and thermoforming, (ii) transparency equal to that of virgin PET and higher than that of recycled PET, (iii) very good elongation at break, (iv) excellent tensile strength resistance and greater bending strength than PET, and (v) ease of cutting and printing.
As a follow-up to these auspicious results, the objective of Fondef project IT13120057 "Production and validation of clamshell-type biodegradable containers for packaging and transport of export fruits" is to scale-up the production of biodegradable clamshell-type containers for industrial use by the national fruit sector. The companies participating in this initiative are Petroquim, Ultrapac Sudamericana (Integrity Branch) and Agrícola y Ganadera Río Cato Ltda.
The production of clamshell-type biodegradable containers at the industrial level was scaled-up from a biodegradable material based on polylactic acid (PLA) plus additives. The containers were manufactured using traditional extrusion and thermoforming techniques and equipment.
The products comply with the technical characteristics of transparency, thermo-resistance (at high and low temperatures), resistance to compression and stacking, properties required for packaging and transportation of export fruits and allowing fruit preservation in suitable conditions, besides maintaining their functional properties all the way to the final consumer. Among their technical features, good melt processability, tensile strength, ease of cutting and suitable functional properties are worthy.
The containers were validated in actual-use conditions by sending a pilot pallet to Germany, reporting excellent packaging performance and the product arrival in perfect conditions.
The execution of this project demonstrated the ability of the UDT to develop market-ready products for a very demanding industry. It also strengthened the links between private companies and the University through collaborative work. This in turn helps to further strengther the position of domestic companies in international markets, by developing eco-friendly materials for the Chilean fruit destination markets.